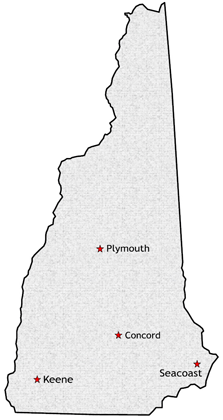 The Concord support group meets the 3rd Sunday of the month from 3-5pm in the conference room on the first floor at the Payson Cancer Center at Concord Hospital. Please click here for directions. Group chairs Lee and Christine Marcroft can be reached at 603-529-2863 or .

The Keene support group meets the 1st Tuesday of the month from 7-9pm at St. James Church on 44 West Street in Keene. Group chair Roberta can be reached at 603-352-6854 or .

The Lakes Region support group does not hold meetings each month. However, chapter chair Paula may be contacted for information, by phone at 603-528-1714 or .

The Plymouth support group meets the 2nd Tuesday of the month from 7-9pm at the Whole Village Resource Center on Highland Street, Plymouth. Group chair Leela can be reached at 603-960-1394 or .

The Seacoast support group meets on the 1st Thursday of the month from 6-8pm at the Seacoast Outright Center, 1 Falkland Place, Portsmouth. Group chair Cheryl can be reached at 603-765-9613 or

All are welcome to attend any of the meetings listed above. Each offers support and discussion with facilitators, and some have programs and speakers. People participate as much or as little as they wish; information is kept confidential. People reluctant to speak before others may arrange for a private discussion. Never been to a meeting before? Consider this.